At Turing House, we aim to meet or exceed the Government's food and nutrition standards. We do not have vending machines filled with fizzy drinks, crisps and sweets on the premises.
How to Pay for School Meals
Our school canteen does not accept cash. Students spend money from their canteen accounts using a fingerprint system, and parents add credit to their child's account using ParentPay.  In order to set up an account for the first time parents will need to refer to the activation email sent to them by the school. If you have lost this, please contact the school office.
We recommend that you tell your child what their daily or weekly budget will be, so that they learn to manage this appropriately. They can ask the canteen staff how much money they have left on their account when they pay for items, as it appears on the screen of the till.
Within ParentPay, parents can see what their child has been spending the money on, and can also create an alert so that they receive an email when the account drops below a minimum amount.
If your child is eligible for free school meals, the school will communicate with you about the daily spending allowance. You may top this up using ParentPay if you wish.
Entitlement To Free School Meals
To find out if you are eligible to claim free school meals for your children, please click here.
If you are eligible for free school meals, you could be saving yourself hundreds of pounds a year in the cost of school meals or packed lunches.
The school also benefits, as they will receive up to £900 per year from the government for each child registered, which they can use for books, equipment or even on more staff.
For information on free school meals please visit https://www.gov.uk/apply-free-school-meals
A message from our Catering Company - Innovate
"Innovate by name and nature. Food choice, flexibility, quality and speed are at the heart of what we do. Inspired by the best and most fashionable high street concepts, we pride ourselves on fusing fantastic quality food with quick service.
Everything has to start with fantastic quality and responsible food. Across our wide, diverse and ever-changing menus, we ensure that everything is safe, sustainable and tastes great. We only source from farmers, wholesalers and catering butchers that are audited to UKAS accredited standards and meet the highest possible assurance levels.
We have a huge variety of really exciting dishes to try! We're talking about global street food, our famous curry Thursdays, modern vegetarian and vegan, and traditional fish and chips. There's something for everyone to enjoy at all times of the day.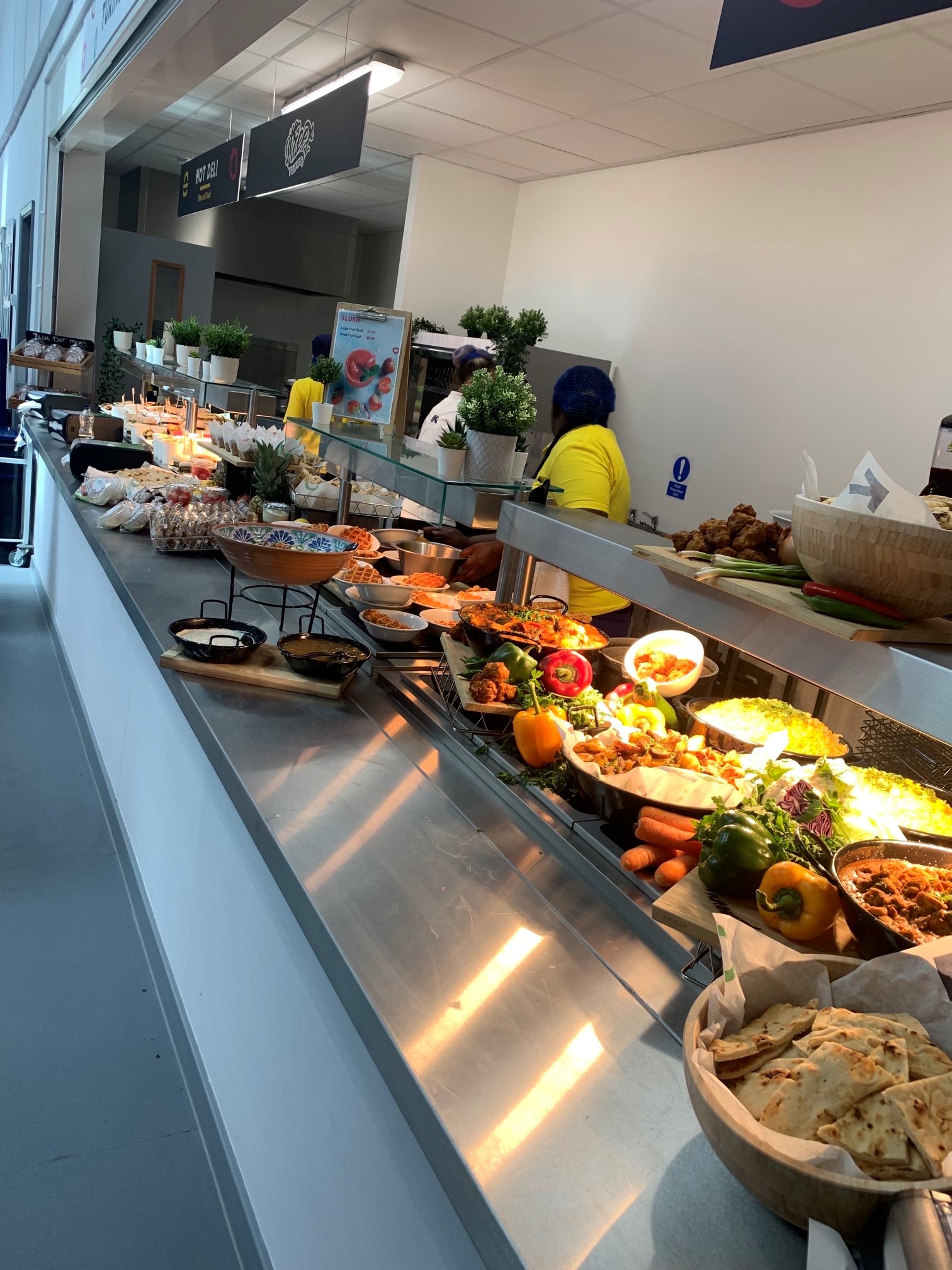 In addition to great food in great environments, we are committed to becoming an 'Impact Organisation' and doing whatever we can to create a better world. We operate a sustainable and responsible business model, minimising packaging (especially plastics), food waste and energy consumption, whilst maximising recycling and composting.
As an Impact Food Group caterer, our vision and values are entirely aligned to working with our schools to create a positive food culture and helping more students eat better food."
Students can choose from a variety of 'grab and go' food items, or they can choose a meal deal consisting of a main hot meal and the choice of a pudding or a bottle of water. Breakfast items are available in the mornings.
Hot food is provided on a cyclical menu system, enhanced by speciality, regional and themed day menus.  There are also cold food options readily available, including sandwiches, salads, fruit and yoghurt.
Lunch is served at 12.25pm and we ensure that, wherever possible:
Fresh ingredients will be used, not processed convenience food.
Food will be baked not fried.
Salt levels will be low.
Ingredients will be locally sourced.
Area(s) for improvement – Involve the student council further in the monitoring of this process
Packed Lunches
Parents are encouraged to provide healthy well balanced packed lunches.
A balanced child's lunchbox includes:
starchy carbohydrates such as bread, potatoes, rice, pasta. Across the week try to provide variety at least three different types with at least one wholegrain /wholewheat option
 at least one portion of fresh fruit and one portion of vegetables or salad every day. Across the week try to provide a variety of different fruits and vegetables
a portion of protein such as beans, pulses, eggs, fish, meat, and other sources of non-dairy protein every day
oily fish, such as pilchards, salmon or sardines at least once every three weeks
a portion of diary food such as low‐fat and lower‐sugar, milk, cheese (or other dairy alternatives) every day
a side dish such as a tea cake, fruit bread, plain rice/corn cakes, homemade plain popcorn, sugar‐free jelly
a drink such as water, skimmed or semi‐skimmed milk
The following items should be limited to only one day per week. Those can only be brought on [Fridays]:
Meat and pastry products such as sausage rolls, pies, sausages, samosa, pork jerky snacks, bhaji,  etc
Cakes and biscuits with no added chocolate/chocolate chips (to be enjoyed as part of a meal, not as a snack)
Fruit juice (limit to 150mls per day)
The following items are banned:
Salty snacks such as crisps, nuts etc 
Any confectionary such as sweets and chocolate or any items made with chocolate
Sugary soft drinks
For more ideas:
Healthy Schools
We have Bronze Healthy Schools status, following best practice in the following key areas:
Leadership, management and managing change
Policy development;
Learning and teaching, curriculum planning and resourcing;
School ethos, culture, environment and SMSC development;
Provision of support services for children and young people;
Staff continuing professional development (CPD), health and wellbeing;
Partnerships with parents/carers, local communities, external agencies and volunteers to support pupil health and wellbeing.